OUR DECATUR WELLNESS CLINIC CAN HELP YOU ON YOUR HEALING JOURNEY
Interferential current (IFC) therapy is the electrical stimulation of soft tissues through controlled electrical impulses. If you take part in IFC therapy at Total Health & Injury Specialist in Decatur, electrodes will be strategically placed on your skin. They will send high-frequency electrical pulses through the skin into the underlying tissues, which stimulates the muscle, increasing blood flow, decreasing inflammation, and helping tense muscles relax. Interferential current therapy is completely safe and can be used to treat both acute injuries and chronic pain. Learn more, and if you'd like to schedule an appointment, contact our wellness clinic today.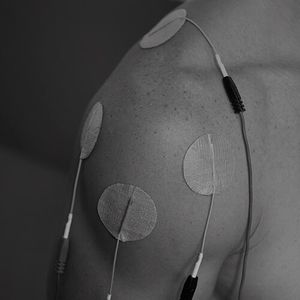 INTERFERENTIAL CURRENTTHERAPY CAN HELP WITH:
Stiff joints
Joint injuries
Edema
Inflammation
Muscle spasm
WHY GET INTERFERENTIAL CURRENT THERAPY?
Like every holistic therapy we offer here at Total Health Health & Injury Specialist, interferential current therapy is a non-invasive, drug-free form of pain relief. It goes deep below the surface of the skin to target the source of the pain, rather than simply the symptoms of the pain. For the majority of patients, interferential current therapy doesn't cause discomfort, though patients with low pain/pressure tolerance (such as patients with fibromyalgia) do need to be individually screened. In fact, many patients enjoy their interferential therapy sessions and find them very soothing.
Did you know that wellness professionals have been using electrical muscle stimulation since the 18th and 19th centuries? We now have much more precise technology and it's an excellent way to provide reliable pain relief and reduction of muscular tension.
TOTAL HEALTH & INJURY SPECIALIST - SPORTS CHIROPRACTOR
One of the things that sets our wellness clinic apart is our wide range of treatment modalities. Treatments such as interferential current therapy are often combined with things such as cryotherapy, myofascial release, and chiropractic care to provide you with the very best holistic treatment plan possible. Schedule a consultation today to find the perfect treatment for you!
CONTACT US TODAY!
Do not fill this form out if you're a solicitor.